Les messages des poubelles
Vu sur une poubelle, quai Van Beneden à Liège, en face de l'Aquarium, pour ceux qui connaissent: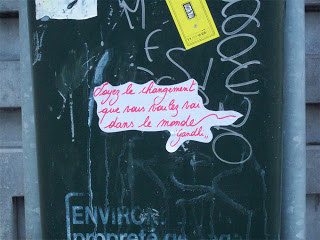 A vrai dire la citation est un peu inexacte, elle devrait être "nous devons être le changement que nous désirons voir dans le monde". Le Mahatma a en fait été cité par Arun Gandhi, qui disait (en anglais, du coup) "we need to be the change we wish to see in the world".
Il est au passage assez amusant de voir combien de sagesses populaires sont attribuées à Gandhi. Quand elles ne sont pas attribuées à John Lennon.